Electric Vehicle Counting Report
Electric vehicles (EVs) are gaining in popularity. Everyday we see more and more EVs on our roads. This series of counting videos aims to create a record of the growing number of EVs in Aotearoa NZ.
Above all, we are looking forward to the today when EVs are the norm. And fossil fuel vehicles are only seen in museums. Bring on the rEVolution!
Two part videos
Each Electric Vehicle Counting Report video, or EVCR, comes in two parts. The first video shows an average commuter journey. Each journey lasts about one hour. Part two can be described a fast-forwarded version of part one.
During the first part, we travel in real-time. This gives us the chance to look for electric vehicles. In part two, we see the playback speed vary. The playback speed is increased when we do not see any EVs. However, the speed is slowed when we spot each EV.
In addition, a dashcam (or GoPro camera) is used to record the EVCR videos. Also, the dashcam is fixed to the windscreen and shows a typical driver's perspective.
Counting battery electric vehicles
Throughout our journeys we try to spot every EV on the road. As a rule, we only count battery electric vehicles, such as; Nissan Leaf, Tesla, Kia Niro EV, Hyundai IONIQ, Jaguar I-Pace etc.
For instance, we do not count hybrid or plugin hybrid electric vehicles (PHEVs). Hybrid vehicles use fossil fuels, such as petrol and diesel. Also, we do not count:
parked EVs like those in a car sales
EVs on transporter delivery vehicles or tow trucks
reflections or photographs like those in billboard adverts
same vehicle more than once.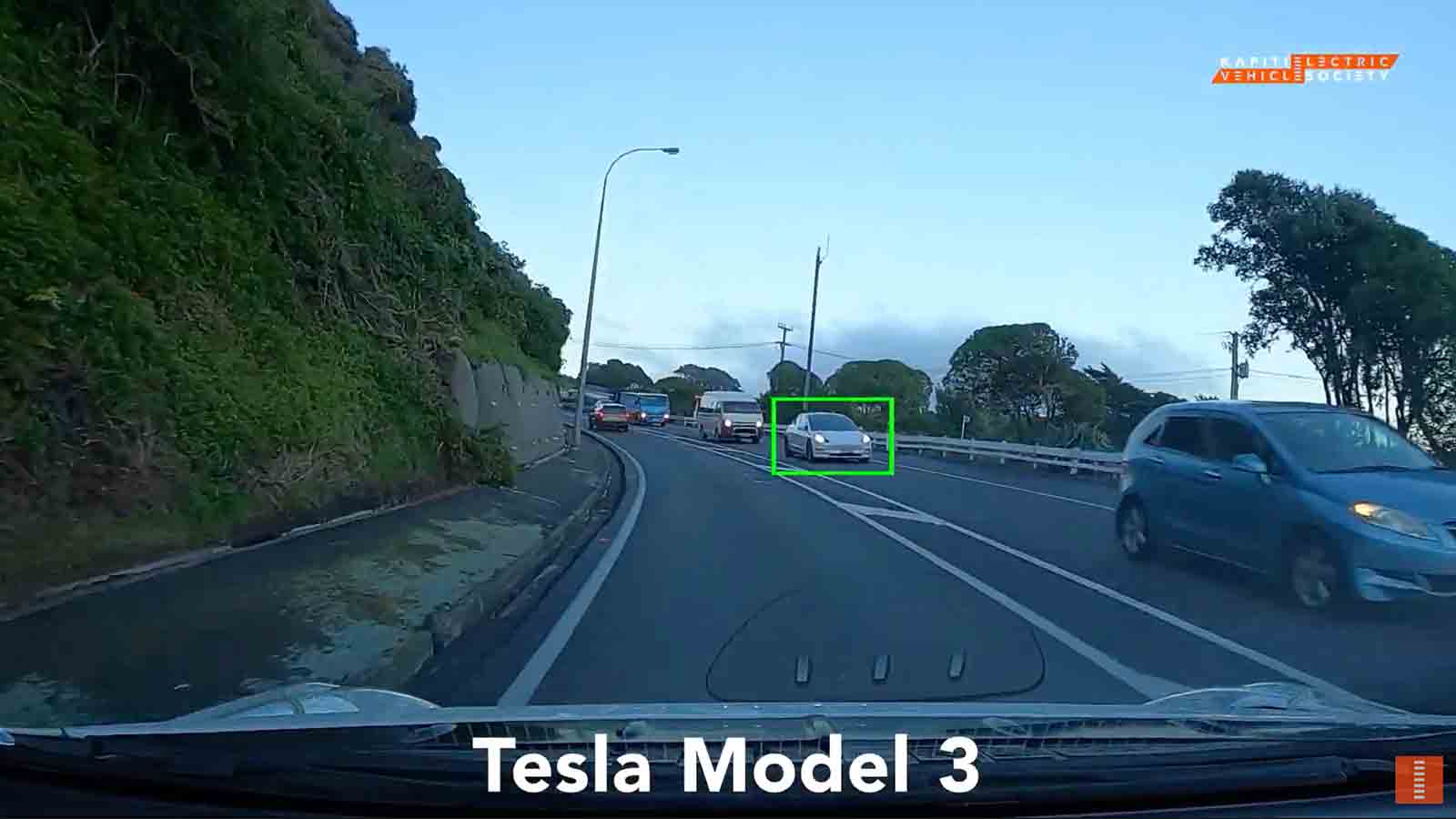 Not scientific reports
Our counting videos are not a scientific studies – they are just for fun! Some videos display speed, time and distance. Please refrain from contacting the Police about any possible speeding. Speed, time and distance shown are not exact. Furthermore, the video's speed may have been adjusted for dramatic effect.
Electric vehicle journeys
Electric vehicle journeys are between Seaview, Lower Hutt, near Wellington, and Waikanae on the Kāpiti Coast.
Counting report journeys follow Greater Wellington Region commuting corridors. These commuting corridors include State Highway 1 (SH1), State Highway 2 (SH2), State Highway 58 (SH58), State Highway 59 (SH59) and the Kāpiti Expressway.
---
---
---
---
---
---
---
---
---
---


Amoral Slick (aka Poolluter) first appears EVCR No.8 – Tally at 00:25
---
---


Desaturated view when no EVs visible.
---
---


Removed speed, time and distance graphics
Added summaries of totals from previous tally videos.
---
---
---
---
More about these videos
To conclude, we would like to thank you for watching this Electric Vehicle Counting Report videos. Want to enjoy more videos like this? Make sure you subscribe to our YouTube channel. Our channel aims to publish new videos every week.
Also, it is worth noting that we produce all our own content. This includes the useful How to video series and the Timelapse Commute. Like, subscribe, comment and share our videos to help accelerate our transition towards sustainable transportation.